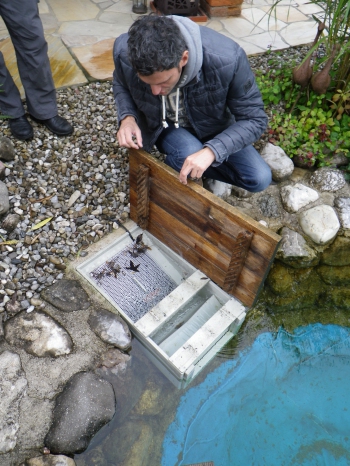 Upon request or post to one of our completed projects, we supply our clients with a site specific maintenance manual. Post to a pool construction or conversion, we walk clients through simple maintenance procedures which need to be carried out for that pool and, if needs be, expand the manual to include further maintenance procedures for their landscape or garden.
The maintenance required for a natural swimming pool is much less than for a conventional pool, as nature herself will carry out most of the cleaning service. There are some small but regular tasks that need to be carried out, such as emptying the skimmers, and ensuring that large quantities of leaves which may have blown in, do not build up too much within the planted zone.
Many people like to spend time looking after their natural pool themselves. However we have a dedicated maintenance team and offer a maintenance service which can be as often or infrequent as you need. We see many of our EcoPools every month, and generally recommend that our maintenance team visits at least once a year to check on the pool's ecological or biological development and its equipment.